Speaking to Local Communities About Youth Sports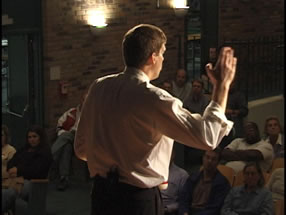 Former NBA player, coach and author, Bob Bigelow, helps adults who are involved in youth sports keep their involvement focused on meeting the needs of ALL the children they serve.
Bob is a sought-after speaker for a wide variety of community-based youth sports groups, including: Local leagues affiliated with national organizations, parks & rec associations, YMCAs and YWCAs, Boys and Girls Clubs, PALs, community centers, church leagues, agency youth leagues, parent/school education groups including PTAs and PTOs.
His talks address the issues in youth sports today:
Meeting the needs of ALL children in youth sports
Recognizing the cost of elite travel teams
Avoiding practices that discourage late-blooming athletes
Adults not competing with one another through our children
Ensuring coaches and administrators are qualified and trained to work effectively with kids
And addressing other critical needs in youth sports
Learn more about Bob's mission and how he can help improve youth sports in your community.
Contact Bob Bigelow for more information.
View Speaker Information Package.
See schedule of recent and upcoming talks (PDF).

Some of Bob's Presentations to Larger Organizations
Instituto San Roberto in Monterrey, Mexico
Featured Speaker at Tennis Australia's Junior Coaches Conference
Keynote Speaker at New Zealand Government's Sport & Recreation Dept's "Connecting Coaches" Conference
Nike Second Annual State of the Game Conference
Soccer Association for Youth (SAY) AGM
American Youth Soccer Organization (AYSO), Section Meeting
The Center for Sports Parenting, Rhode Island
USA Hockey Regional Conferences
World Wide Air Force Base Youth Sports Directors
Various State Park and Rec Conferences
USYSA State Association Conferences
Various United States Tennis Association (USTA) Regional and National Conferences
Kansas City, KS; Hilton Head, SC; Indianapolis, IN
Bridgewater MA State College's Massachusetts Aggression Reduction Commission (MARC)
USA Hockey ADM Conference (Pittsburgh, PA) - Keynote Speaker