How to Coach Kids
Focusing on Fundamentals in Youth Basketball Coaching
BOB'S TRULY UNIQUE IN-PERSON COACHES' CLINICS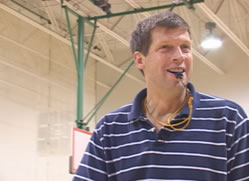 Basketball coaches worldwide have benefited from Bob Bigelow's thousands of clinics for coaches of 3rd to 8th grade basketball players over the past 20+ years. Bob's 90-minute to 2-hour clinics are fun, engaging and stress the true fundamentals coaches need to teach sports to young athletes. Program administrators can book Bob's clinic for either weekdays or weekends before and during basketball season, and know that their coach training needs are in expert hands. Youth basketball coaches will gain the confidence they need to demonstrate and teach age-appropriate skills to their players. Kids will benefit from great coaching and skill development.
Highlights from Bob's Coaches Clinics:
---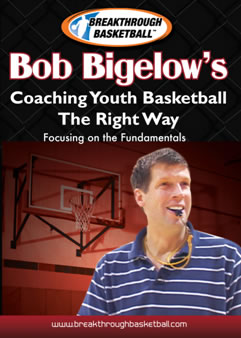 Bob can help you, as a youth basketball coach, and your local program in two ways: through his in-person coaches' clinics and with his new revolutionary DVDs.
Bob is pleased to announce the introduction of his three new DVD sets for youth basketball coaches. In conjunction with Breakthrough Basketball, a premier online provider of videos and information for youth sports coaches, Bob now provides THE definitive DVDs that will enable coaches of youth basketball players ages 8 to 14 (3rd to 8th grade) to maximize their skill development and fun through the skill exercises and approaches to playing the game that Bob offers.
Volume I – Coaching Youth Basketball the Right Way — Focuses on fundamentals for 3rd to 6th graders: a single 85-minute DVD that provides all of the fundamentals that a youth coach should be teaching his or her players, from basic movement, dribbling, passing, and shooting, through to basic triangle offense and defense. Volume I demonstrates coaches learning a variety of practice activities and young athletes practicing these skills. This DVD gives you all the core skills and the most important concepts for youth basketball coaches.
Volume II – Building on the Fundamentals for 3rd to 6th Graders — Consists of two DVDs totaling 130 minutes. These build on the fundamentals in Volume I by including more advanced skills and drills for kids ages 8 to 14. Volume II consists of warm-ups, ball handling, footwork, pivoting, dribbling, passing, shooting, lay-ups, rebounding, and both individual and team offense and defense. This volume gives you 32 more drills, expands on the topics in Volume I, and covers more youth coaching concepts and issues. Once you have mastered Volume I and have a strong understanding of these basics, you should move on to Volume II to increase your knowledge and get to the next level as a youth basketball coach!
Outline of Volumes I and II (PDF)
VoIume III – Coaching Middle School Basketball the Right Way — Two DVD set of over 3 hours in which Bob takes you through a variety of drills, fundamentals, and teaching points specifically for coaches of middle school players. This set includes warm up drills, proper body control and positioning, more advanced footwork and fakes, drills for dribbling, passing and shooting appropriate to middle school aged players, improving rebounding and post play, and a big emphasis on individual and team offense and defense. This set includes over 50 skill exercises as well as tips from Bob on the best way to coach and develop quality players in this age group!
Outline of Volume III (PDF)

If you want to be a better and more effective youth coach, Bob's new DVDs deliver what you need!
Volume I DVD costs $29.95 and is available online from Breakthrough Basketball.
The full Volume I and II 3-disc set is just $59.95.
Bob's Volume III 2-disc set is now also available from Breakthrough Basketball at just $49.95.
All DVDs have a 60-day money back guarantee. Please don't miss out on the opportunity to do the very best for your kids by ensuring they develop the true fundamental skills they need for success!
---
Bob's Credentials
Bob is a former professional and collegiate player and is one of the foremost youth sports speakers and youth coach trainers in the country. He played for the Kansas City Kings, Boston Celtics and San Diego Clippers as well as for Hall-of-Fame coach Chuck Daly (who coached the 1992 Olympic Gold Medal "Dream Team") at the University of Pennsylvania. Bob has been featured dozens of times in the media, and co-authored the ground-breaking book about improving youth sports: Just Let the Kids Play. He has served as an expert panelist and board member for several organizations dedicated to bettering youth sports and has made numerous print, broadcast and media appearances. Bob has conducted hundreds of youth basketball clinics for coaches of players in grades 4 to 8 over the past 20+ years. He advocates developing fundamental skills and fully meeting the needs of children as the top priority in youth basketball programs.